Talcum Powder Linked to Ovarian Cancer
Strong evidence revealed during jury trials suggests that companies like Johnson & Johnson were aware of the potential risks of the talcum powder products, but they did nothing to inform consumers of these risks, much less try to protect them from injury.
Talcum Powder Lawsuits and the Link to Ovarian Cancer
Thanks in part to a rash of news stories about the surprising dangers talcum powder, Johnson & Johnson and other manufacturers of products that use talcum powder face over 1,000 lawsuits. If you or anyone you love was possibly negatively affected by talcum powder, you need accurate insights into this disturbing medical development.
Jury Verdicts Against Johnson & Johnson
$25.7 Million Verdict (May 2018)
$117 Million Verdict (April 2018)
$110 Million Verdict (May 2017)
$55 Million Verdict (May 2016)
New Research Awakens Old Scientific Debate
Recent and compelling research has convincingly linked talcum powder use to ovarian cancer and helped touch off the recent spate of talcum powder lawsuits. The surprising connection also set off heated talk in the media and in scientific circles. Curiously, educated suspicions about the risks of talcum powder products had been quietly debated for several decades.
To understand why this legal and medical debate is roiling the landscape, let's back up to discuss the science of this seemingly innocuous substance.
Baby Powder and Shower to Shower has been shown to increase the risk of ovarian cancer by over 30%. And for many women with the risk factor is much greater.
What Is Talcum Powder?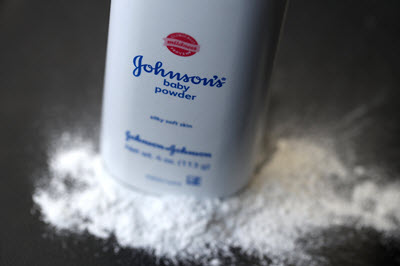 Baby powder is a familiar substance to millions because of its characteristic look and scent. Many baby powder products are made using nearly 100 percent talc, a white, soft mineral substance mined for industrial and commercial use.
In the past, talcum powder contained natural traces of asbestos as a result of the materials' similar conditions for geological formation. Since talcum powder can easily be inhaled, many cases of asbestos exposure and subsequent lung cancer developed.
Even though federal law mandated that talcum powder and other products intended for consumer use be asbestos free in 1973, recent cases of mesothelioma related to talcum powder exposure have been ongoing.
Past and Current Research into the Dangers of Talcum Powder
The first time this highly concerning potential phenomenon came to light was in a 1971 British study in which woman suffering from ovarian and cervical cancer had tissues from their tumors extracted and examined. Researchers discovered talc particles "deeply embedded" within the cancerous tissues. A subsequent study in 2015 at Brigham & Women's Hospital by epidemiologist Daniel Cramer found a similar link, even within products that had been made asbestos-free. Although the study concluded that more rigorous research was needed to establish a connection, Cramer informed Reuters of the issue of disclosure to consumers.
"Talc is a good drying agent," he noted, "but women should know that if it's used repeatedly, it can get into the vagina and into their upper genital tract. And I think if they knew that, they wouldn't use it."
Current Worries Not about Inhalation Injury
However, the current worry over talcum has nothing to do with asbestos, a well-known as a carcinogen. Instead, the cases concern new information that links the regular application of talcum powder to genital areas with a higher risk ovarian cancer.
Medical Daily reports that women who apply talcum powder to their genitals, perineal areas or undergarments have a risk that talc particles could travel through their vaginas, into the uterus and ultimately to their ovaries.
Cancer Risks, Cover Ups and Talcum Powder Lawsuits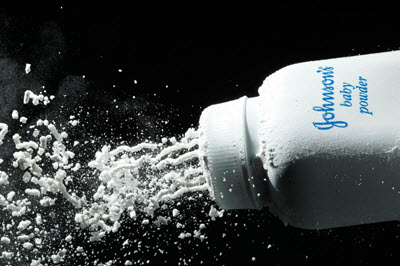 Issues regarding consent and concealed risk dominate the conversations of current talcum powder trials. Strong evidence revealed during trials suggests that companies like Johnson & Johnson were aware of the potential risks of the talcum powder products, but they did nothing to inform consumers of these risks, much less shield them from them.
In fact, evidence brought to light during a recent trial — one which ended in a $72 million verdict for the plaintiff against Johnson & Johnson — revealed that Johnson & Johnson was trying to internally devise a strategy to deflect allegations of risk regarding talc and cancer.
Bloomberg reports on an internal memo from a Johnson & Johnson medical consultant, who stated that "anybody who denies this risks that the talc industry will be perceived by the public like it perceives the cigarette industry: denying the obvious in the face of all evidence to the contrary."
To date more than 1,000 lawsuits have been filled against Johnson & Johnson, and thousands of more cases are expected to be filed shortly. Request a Free Case Evaluation
Suppressed Evidence?
Other evidence suggests that companies actively sought to suppress information about the link between talc and ovarian cancer. Bloomberg reported that Daniel Cramer, author of the aforementioned 2015 study, testified during a 2011 trial that a Johnson & Johnson representative approached him after publication of a similar study in 1982.
Cramer revealed that a J&J executive named Bruce Semple "spent his time trying to convince me that talc use was a harmless habit, while I spent my time trying to persuade him to consider the possibility that my study could be correct and that women should be advised of this potential risk of talc."